Regular price
Sale price
$56.00 USD
Unit price
per
Sale
Sold out
Third eye chakra set is handmade with grade A or higher crystals that were hand selected for the third eye chakra. The third eye chakra necklace is made with purple hemp and is 20-23inches. The bracelet is adjustable.
This item has been infused with good vibes and reikied by certified masters.
Blue calcite- Blue Calcite. Calming Blue Calcite soothes frayed nerves and lessens anxieties. A gentle stone to use when recuperating, Blue Calcite facilitates physical healing by clearing negative emotions and encouraging rest and relaxation.  This lovely crystal resonates quite strongly within both the third eye chakra and the throat chakra. Due to its vibration within these chakras, it has a good action that may assist anyone who is doing any type of spiritual or psychic work.
Labradorite- Labradorite Crystal is a stone of magic, awakening within you mystical and magical abilities and psychic powers. Some of the well known attributes of labradorite include action to boost your spiritual gifts, and to enhance psychic abilities, and they also have many excellent healing properties that stimulate stronger psychic communication abilities and within the third eye chakra they work to enhance both telepathic and prophetic gifts.
Moonstone- A stone of intuition and insight, Moonstone helps to connect to all of the different cycles one experiences in life. Moonstone helps to balance the emotional body, especially any aggressive tendencies in males or females. Many people find Moonstone to be very soothing and use it to help relieve stress. Moonstone is used to protect those who travel on or by water. Working with the Sacral, Third-Eye and Crown Chakras, Moonstone connects us to Divine Inspiration, and channels it into our own intuition. Moonstone encourages introspection and judgment, yielding to easier decision making.
Purple fluorite- Fluorite is a highly protective and stabilizing stone, useful for grounding and harmonizing spiritual energy. When working with the upper Chakras, Fluorite increases intuitive abilities, links the human mind to universal consciousness, and develops connection to Spirit. Purple Fluorite stimulates the Third Eye Chakra and brings some common sense to psychic intuitions. Use Purple Fluorite when you want to really focus on the expression of Spirit, and communicate precisely its messages.
Amethyst- Amethyst is one of the most important stones for Third Eye Chakra, or the energy center located in between the brow. This purple quartz promotes spiritual awareness, intuition, and psychic abilities.It calms the mind and creates emotional stability and inner strength.  It initiates wisdom and greater understanding of our thoughts and internal communications within ourselves. By doing this, we are open to new ideas, dreams, and visions. It also opens up your spiritual center when meditating.
Lapis Lazuli- Lapis Lazuli is the firm choice for opening the Third Eye Chakra. It aligns perfectly with the navy blue color of the Third Eye Chakra. It is the stone of "Total Awareness", bringing you a perspective that is omnipotent and multidimensional. A stone of wisdom, intuition, and truth, Lapis Lazuli is a powerful crystal for anyone seeking to deepen their connection to self. The Lapis Lazuli crystal properties are known for opening the third eye chakra, the center of intuition and inner wisdom. By enhancing your ability to turn inward and uncover your truth, the Lapis Lazuli crystal healing properties can support anyone ready to step into their power and authentic self.  

Lala Lotus Co. offers a matching bracelet for this necklace. The necklace is $45, the bracelet is $25. If bought together we offer 20% off of the total coming to $56
If you would like a different size, more than one of this necklace, have any questions, or if you would like to order a custom piece message me on Etsy, instagram, or email Lalalotusco@gmail.com
Shipping & Returns

Shipped within 3-5 business days.

Custom orders will be longer to ship out.

Shipping time depends on postage chosen at checkout.
Care Instructions

Jewelry Care:
Avoid Contact With Moisture
Water, perfumes, creams, and other beauty products.

Remove Jewelry:
When exercising, Bathing, or Sleeping

Store Jewelry Safely When Not In Use:
In a Box or a Jewelry Bag
Share
View full details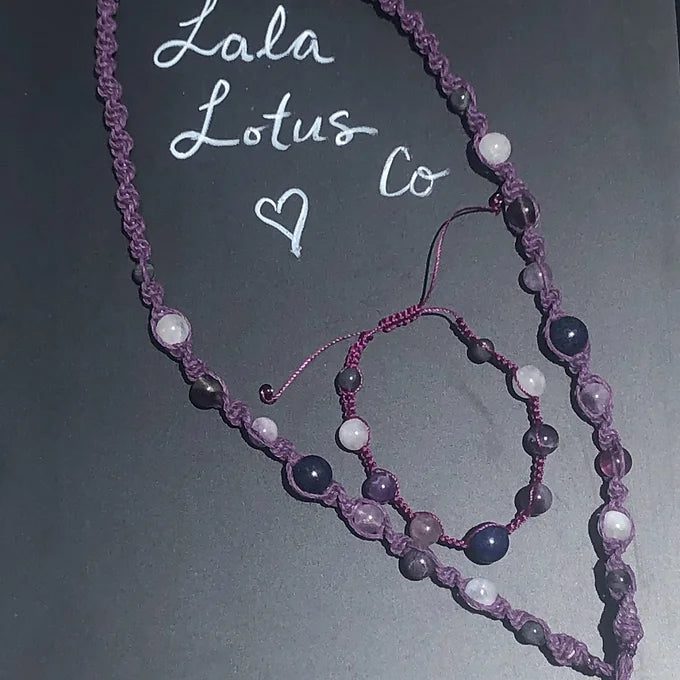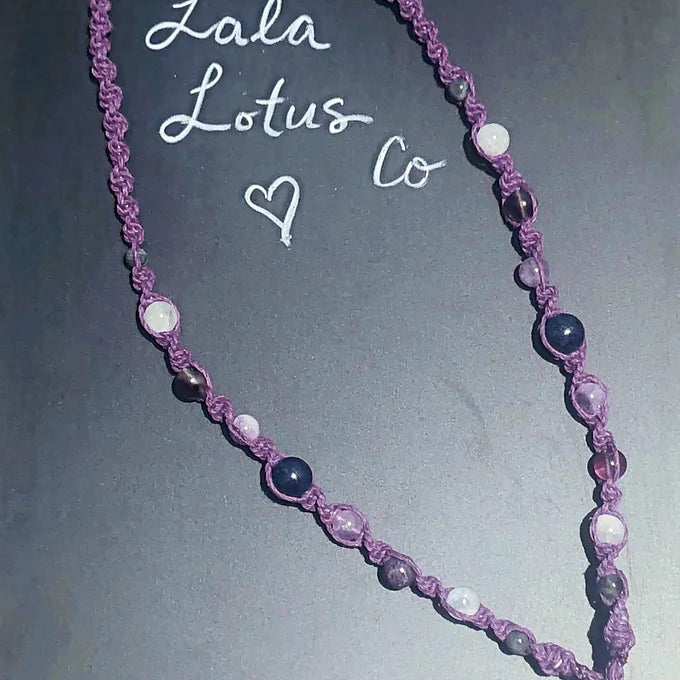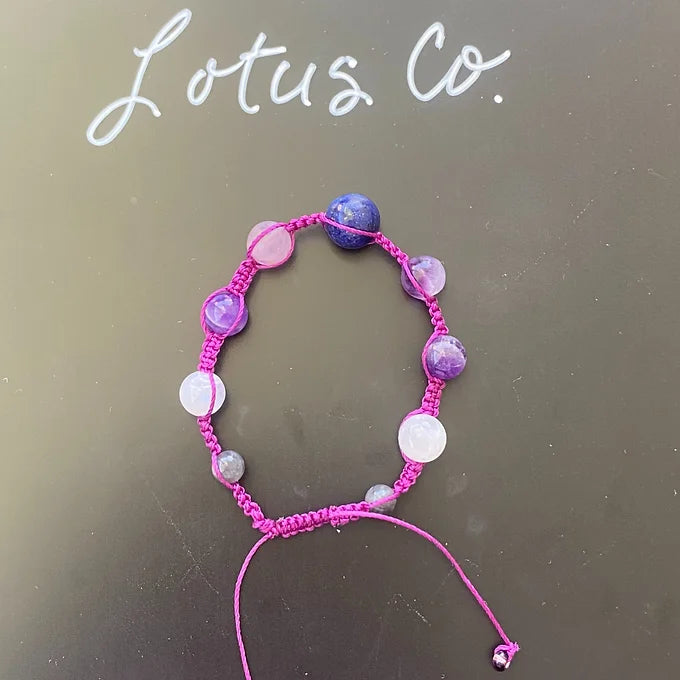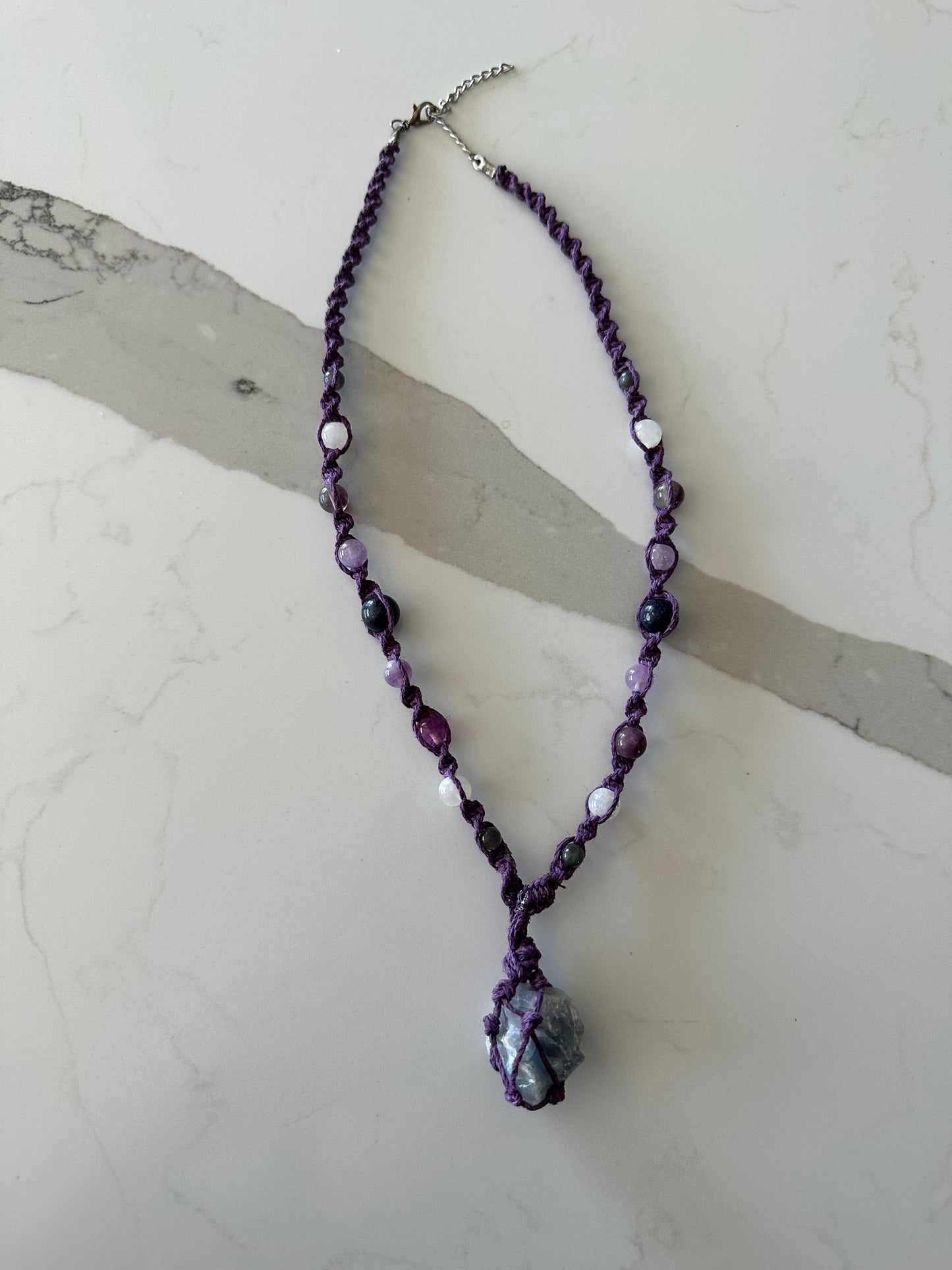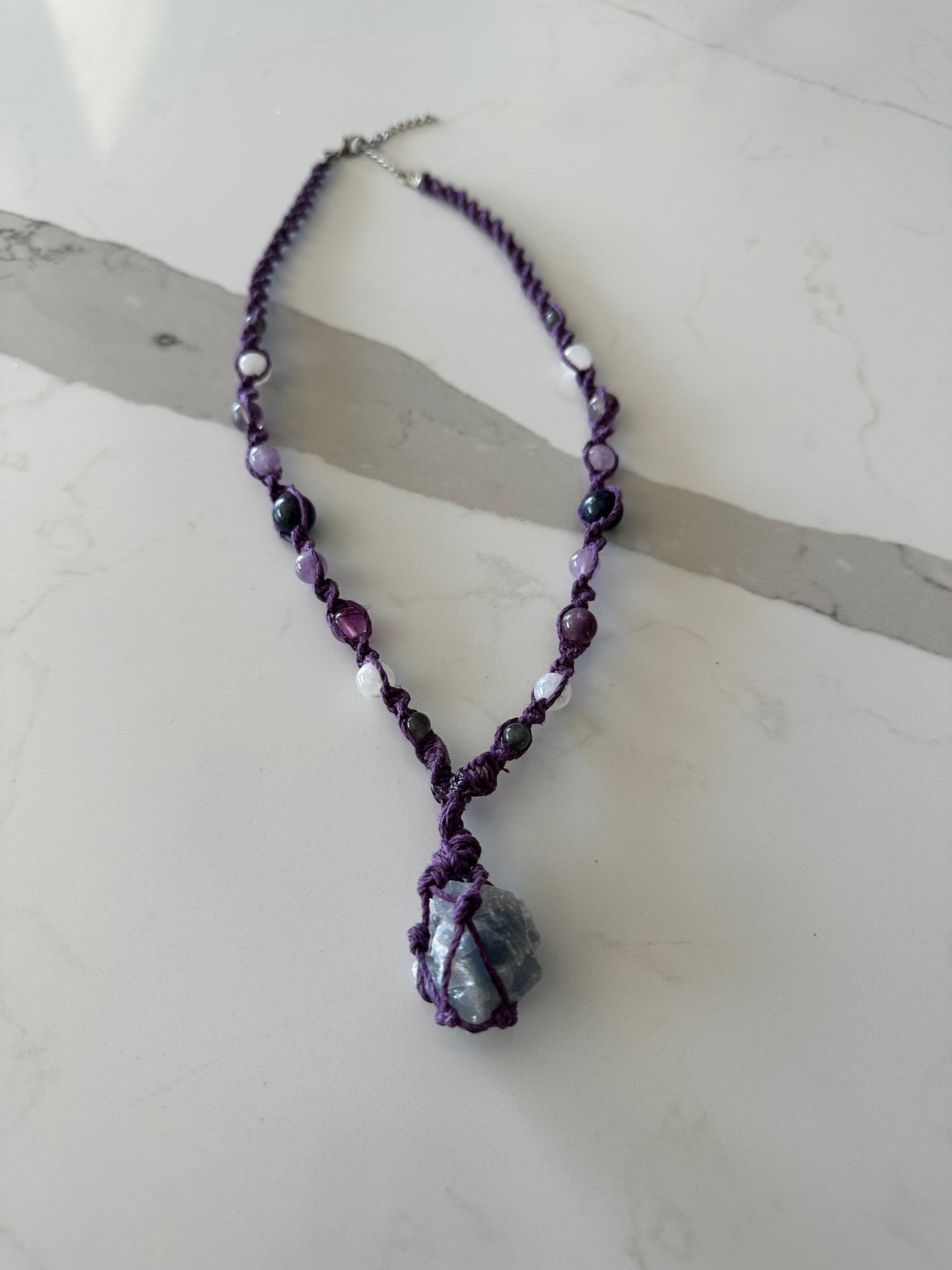 WORRY FREE EXCHANGES

Need something returned? Please reach out to us. We are happy to help.

FREE SHIPPING OVER $50

Free Priority Shipping on orders over $50 + insurance and tracking included.

MAGICAL CUSTOMER SERVICE

Something we can help you with? Issue with an order? Just wanna send us fan mail? Contact us at lalalotusco@gmail.com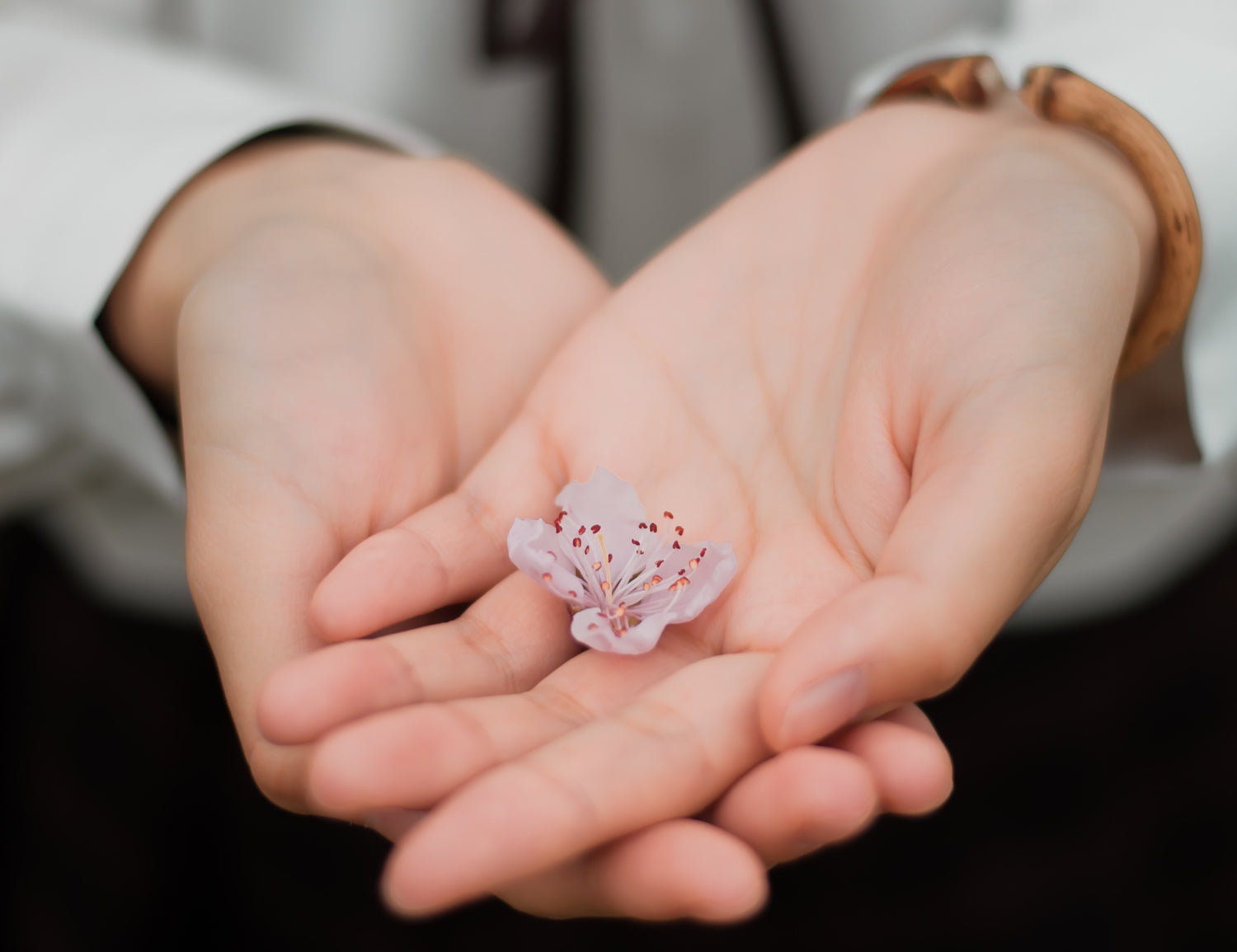 NEED SOME REIKI ENERGY?
All our beautiful jewelry is infused with reiki energy. Why not connect and try out our reiki sessions for yourself.
REIKI SESSION