Regular price
Sale price
$50.00 USD
Unit price
per
Sale
Sold out
This necklace was handmade and reikied by a certified master. This beautiful piece has been reikied with the intention of healing, calming, and fertility.
Carnelian-It stimulates the sacral chakra, stirring the energy of the reproductive organs. If you're trying to conceive, Carnelian can help remove energy blocks in this region. It even activates the kundalini energy coiled at the base of the spine, divine energy associated with feminine power. A stabilizing stone, Carnelian restores vitality and motivation and stimulates creativity. It gives courage, promotes positive life choices, dispels apathy, and motivates for success. 
Moonstone-Women's fertility cycles connect with the waxing and waning of the moon. The moonstone is known for balancing hormonal and reproductive issues as well as emotions. As the moon cycles connect us to nature, the moonstone also reminds us that our lives also ebb and flow. Moonstone cultivates compassion and empathy. A stone for "new beginnings", Moonstone is a stone of inner growth and strength. It soothes emotional instability and stress, and stabilizes the emotions, providing calmness. 
Rose Quartz-Rose Quartz is said to aid in increasing overall fertility. Emotionally, Rose Quartz brings forgiveness, compassion, as well as balancing one's emotions. It helps with healing emotional wounds and traumas. Rose Quartz removes fears, resentments, and anger. Rose Quartz is one of our favorite stones for love and fertility. Rose Quartz is the stone of universal love. It restores trust and harmony in relationships, encouraging unconditional love. Rose Quartz purifies and opens the heart at all levels to promote love, self-love, friendship, deep inner healing, and feelings of peace. Calming and reassuring, it helps to comfort in times of grief.  
 
Rhodochrosite- Rhodochrosite is a gentle gem that reaches across space and time to connect you with the 'all-mother' consciousness. This treasure, especially in egg form, inspires fertility in many areas of life from love for friends to manifesting new life. Rhodochrosite is a stone that integrates physical and spiritual energies, stimulating love and passion while energizing the soul.  Rhodochrosite opens the heart, lifting depression and encouraging a positive and cheerful outlook. 
Jade-Jade is a symbol of serenity and purity. It signifies wisdom gathered in tranquility.  It increases love and nurturing. A protective stone, Jade keeps the wearer from harm and brings harmony. Jade attracts good luck and friendship. It stabilizes the personality and promotes self-sufficiency.  Soothes the mind, releasing negative thoughts. Stimulates ideas. A "dream stone", Jade brings insightful dreams. It aids emotional release, especially of irritability. Jade encourages you to become who you really are and is known to assist in childbirth.
Clear Quartz-Clear Quartz amplifies your intentions and desires. If you're manifesting a pregnancy, it's good to have clear quartz with you to amplify your intentions, healing, or prayer. It clears the mind of negativity and enhances higher spiritual reception. Clear Quartz is known as the "master healer" and will amplify energy and thought, as well as the effect of other crystals. It absorbs, stores, releases, and regulates energy. Clear Quartz draws off negative energy of all kinds, neutralizing background radiation, including electromagnetic smog or petrochemical emanations. It balances and revitalizes the physical, mental, emotional, and spiritual planes. Cleanses and enhances the organs and subtle bodies and acts as a deep soul cleanser, connecting the physical dimension with the mind. Clear Quartz enhances psychic abilities
Selenite-Selenite is used to promote fertility, increase libido, and is a protector of pregnancy and motherhood. One of the selenite healing properties is that it magnifies and amplifies the energy of anything that is placed upon it, making it ideal for activating your crystals and jewelry. Selenite provides for clarity of the mind, expanding one's awareness of the self and of one's surroundings. It opens the crown and higher crown chakras and accesses angelic consciousness and higher guidance. It can be used to access past lives as well as future lives. Selenite is a calming stone that instills deep peace and is excellent for meditation or spiritual work. It assists judgment and insight.  It clears confusion and aids in seeing the deeper picture.
Garnet-History has always seen the garnet as a red jeweled womb symbol, sexually supportive, working to balance the sex drive; increasing it if needed, and promoting fertility if neededGarnet cleanses and re-energizes the chakras. It revitalizes, purifies, and balances energy, bringing serenity or passion as appropriate. Inspires love and devotion. 
Fluorite-Fluorite is a key fertility crystal as it balances hormones, making it perfect for irregular cycles, PMS (Pre-menstrual Syndrome), Perimenopause, Menopause, and PCOS (Polycystic Ovarian Syndrome). It also provides emotional balancing helping to relieve stress as well. Fluorite cleanses and stabilizes the aura.  
Amazonite-Amazonite was believed to be a symbol of fertility and good luck. Amazonite promotes confidence and excitement when starting a new chapter in your life (Baby!). Eases anxiety, self-neglect, mood swings, and encourages a healthy lifestyle. Amazonite is a soothing stone. It calms the brain and nervous system and aids in maintaining optimum health. Balances the masculine and feminine energies.  
Red Jasper- Jasper is known as the "supreme nurturer". It sustains and supports through times of stress, and brings tranquility and wholeness.  Jasper provides protection and absorbs negative energy. It balances yin and yang.  Jasper clears electromagnetic and environmental pollution, including radiation. It encourages honesty with one's self. Provides courage to assertively tackle problems. Aids quick-thinking and promotes organizational abilities.  asper stimulates the imagination and transforms ideas into action. It supports prolonged illness and re-energizes the body. Red Jasper is gently stimulating and also an extremely protective stone. It can neutralize radiation and other forms of environmental and electromagnetic pollution. Red Jasper rectifies unjust situations and grounds energy
 
This item has been handmade and reikied by a certified reiki master. The intention for this piece is fertility, manifestation, and peace.
Shipping & Returns

Shipped within 3-5 business days.

Custom orders will be longer to ship out.

Shipping time depends on postage chosen at checkout.
Care Instructions

Jewelry Care:
Avoid Contact With Moisture
Water, perfumes, creams, and other beauty products.

Remove Jewelry:
When exercising, Bathing, or Sleeping

Store Jewelry Safely When Not In Use:
In a Box or a Jewelry Bag
Share
View full details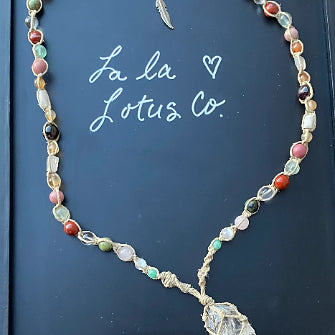 WORRY FREE EXCHANGES

Need something returned? Please reach out to us. We are happy to help.

FREE SHIPPING OVER $50

Free Priority Shipping on orders over $50 + insurance and tracking included.

MAGICAL CUSTOMER SERVICE

Something we can help you with? Issue with an order? Just wanna send us fan mail? Contact us at lalalotusco@gmail.com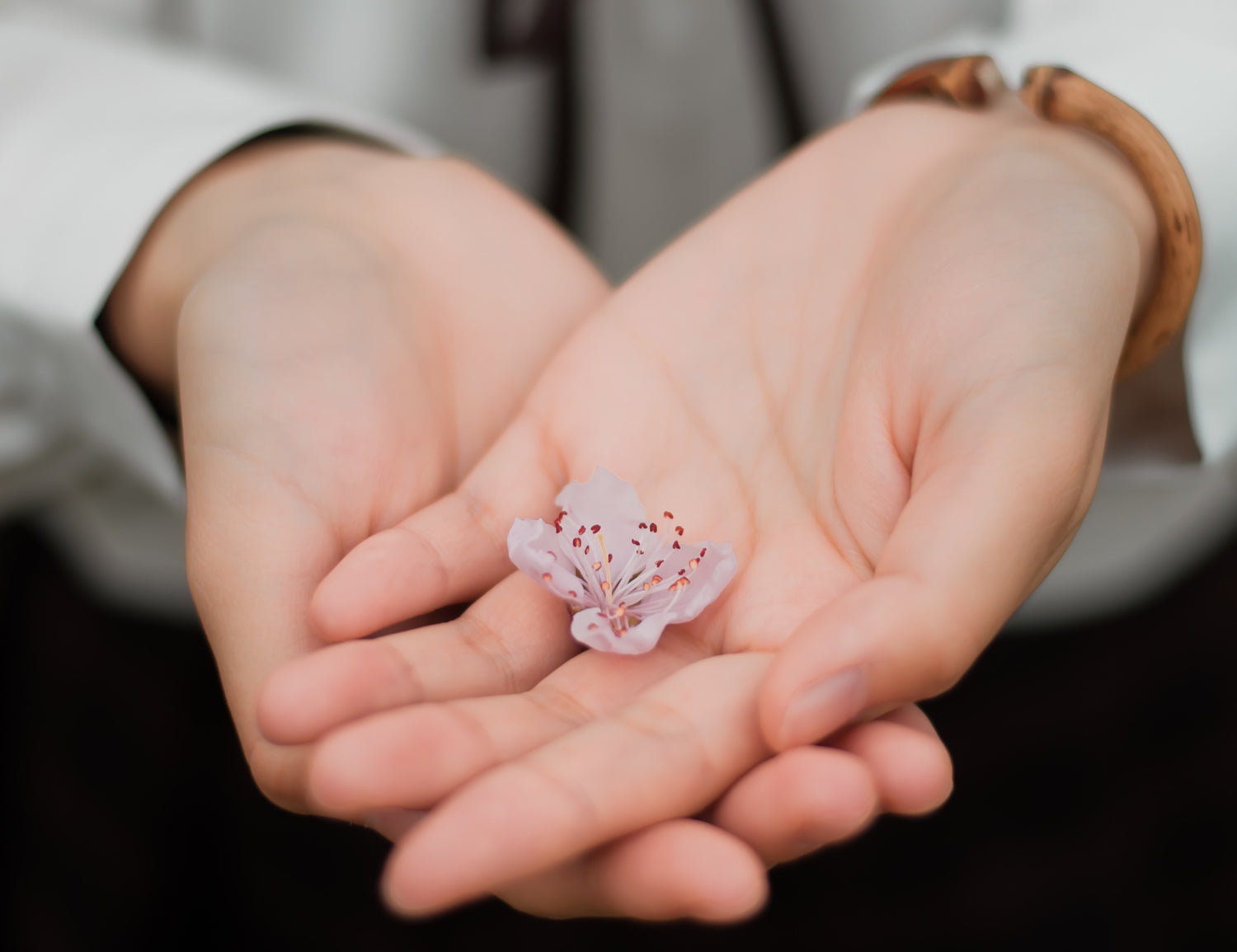 NEED SOME REIKI ENERGY?
All our beautiful jewelry is infused with reiki energy. Why not connect and try out our reiki sessions for yourself.
REIKI SESSION