Regular price
Sale price
$56.00 USD
Unit price
per
Sale
Sold out
Complete chakra set is handmade with grade A or higher crystals and rainbow tie-dye hemp cord. The bracelet is made with the same stones as the necklace, black cord, and is adjustable. Each crystal is hand selected for each chakra. This necklace is 20inch necklace that can adjust to 23 inches. This necklace can also be mad on black hemp cord. 
This item has been infused with good energy and reikied by certified masters! 
Hematite- Hematite helps to absorb negative energy and calms in times of stress or worry. Hematite is a very protective stone and is great to carry to help you stay grounded in many situations. Hematite is also good for working with the Root Chakra, helping to transform negative energies into a more positive vibration.
Turquoise- Turquoise is a purification stone. Turquoise balances and aligns all the chakras, stabilising mood swings and instilling inner calm. It is excellent for depression and exhaustion, it also has the power to prevent panic attacks. Turquoise promotes self-realisation and assists creative problem solving. Specifically, Turquoise is a stone of communication (5th Chakra). New Age healers recommend it for people who have a fear of public speaking. They believe it has the ability to make a speaker more eloquent, loving, creative and honest.
Amethyst-  Amethyst is a powerful and protective stone.  It guards against psychic attack, transmuting the energy into love and protecting the wearer from all types of harm, including geopathic or electromagnetic stress and ill wishes from others.  Amethyst is a natural tranquiliser, it relieves stress and strain, soothes irritability, balances mood swings, dispels anger, rage, fear and anxiety.  Alleviates sadness and grief, and dissolves negativity.  Amethyst activates spiritual awareness, opens intuition and enhances psychic abilities.  It has strong healing and cleansing powers.  The gem is associated with the crown or "bliss" chakra, which is also purple in color.
Rose Quartz- One of the most important stones for Heart Chakra work, Rose Quartz opens the heart to all types of love - love of self, love of family, love of friends, romantic love. Because it is a type of quartz, Rose Quartz does have a high energy, but its vibe is also calming and soothing. Rose Quartz is the stone of universal love. It restores trust and harmony in relationships, encouraging unconditional love. Rose Quartz purifies and opens the heart at all levels to promote love, self-love, friendship, deep inner healing and feelings of peace.
Citrine- Citrine heightens self-discipline, attracting professional success and wealth. Most often associated with the Solar Plexus Chakra, Citrine can also be used to cleanse all Chakras. Citrine will help support the energy of a family environment at work or at home. Citrine is a premier stone of manifestation, imagination, and personal will. Carrying the power of the sun, it is warm and comforting, energizing and life giving. It stimulates the chakras like the sunlight of spring, clearing the mind and stirring the soul to action. Its frequency awakens creativity and imagination, and sustains the process of transforming dreams and wishes into tangible form. 
Amber-  Amber is a natural purifier, esteemed for its ability to draw pain and dis-ease from the physical body, as well as the mind and spirit, by absorbing negative or stagnant energies and transforming them into clear, positive energy. This stimulates the body's own mechanisms to heal itself. It increases vitality and aids tissue regeneration. Amber is ideal for cleansing and reactivating the chakras, particularly the Sacral and Solar Plexus Chakras, and is an excellent tool for clearing the environment in which it rests.  The gold and orange shades of Amber stimulate the Navel or Sacral Chakra, located below the naval and above the pubic bone at the front of the pelvis. It controls the flow of energy and is the center of gravity of the body.
Clear Quartz- Quartz Chakra Healing and Balancing Energy Clear Quartz is particularly useful for stimulating the Crown Chakra. The Crown Chakra is located at the top of the head, and is our gateway to the expanded universe beyond our bodies. Clear Quartz is the most versatile healing stone among all crystals.  Quartz is the most powerful healing stone of the mineral kingdom, able to work on any condition.  Clear Quartz is known as the stone of power and amplifies any energy or intention.  Clear Quartz protects against negativity, attunes to your higher self, and relieves pain.
Lala Lotus Co. offers a matching bracelet for this necklace. The necklace is $45, the bracelet is $25. If bought together we offer 20% off of the total coming to $56
If you would like a different size, more than one of this necklace, have any questions, or if you would like to order a custom piece message me on Etsy, instagram, or email Lalalotusco@gmail.com
Shipping & Returns

Shipped within 3-5 business days.

Custom orders will be longer to ship out.

Shipping time depends on postage chosen at checkout.
Care Instructions

Jewelry Care:
Avoid Contact With Moisture
Water, perfumes, creams, and other beauty products.

Remove Jewelry:
When exercising, Bathing, or Sleeping

Store Jewelry Safely When Not In Use:
In a Box or a Jewelry Bag
Share
View full details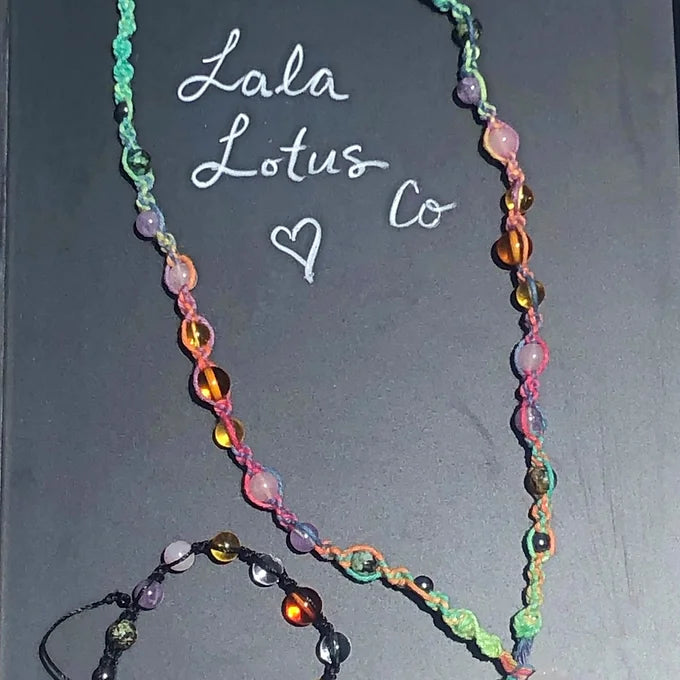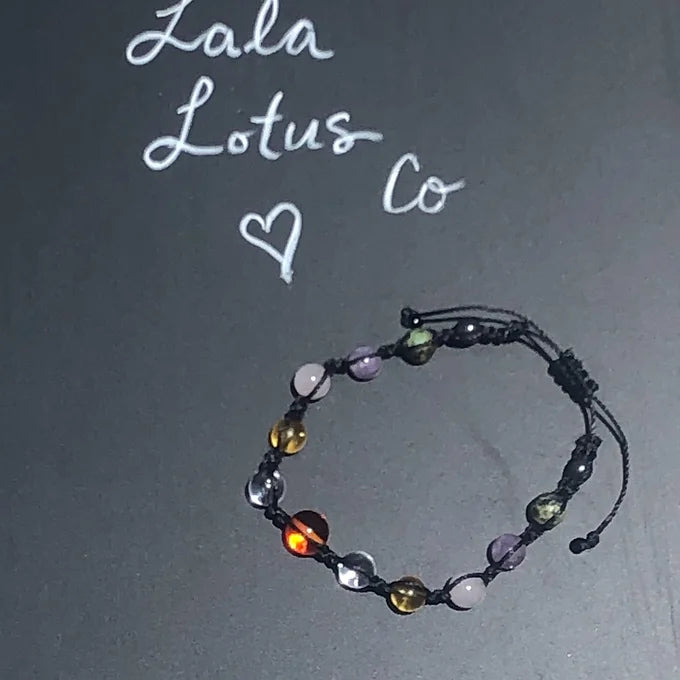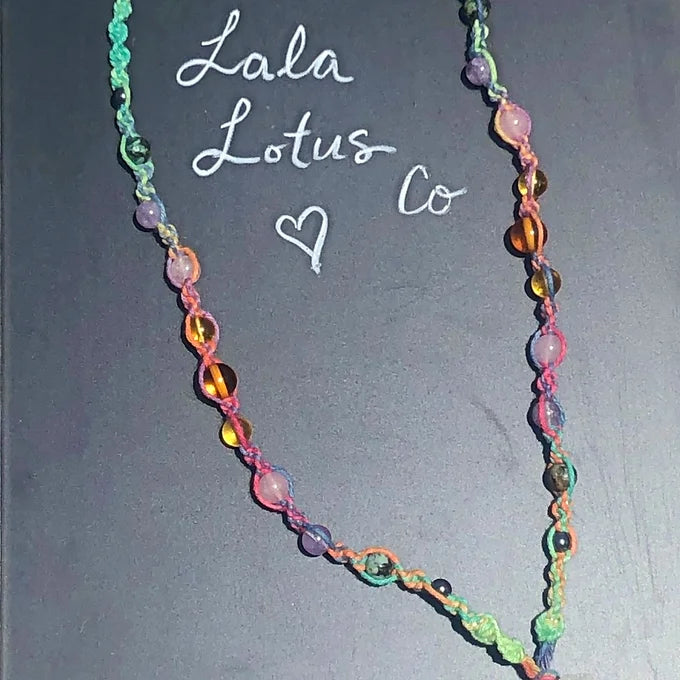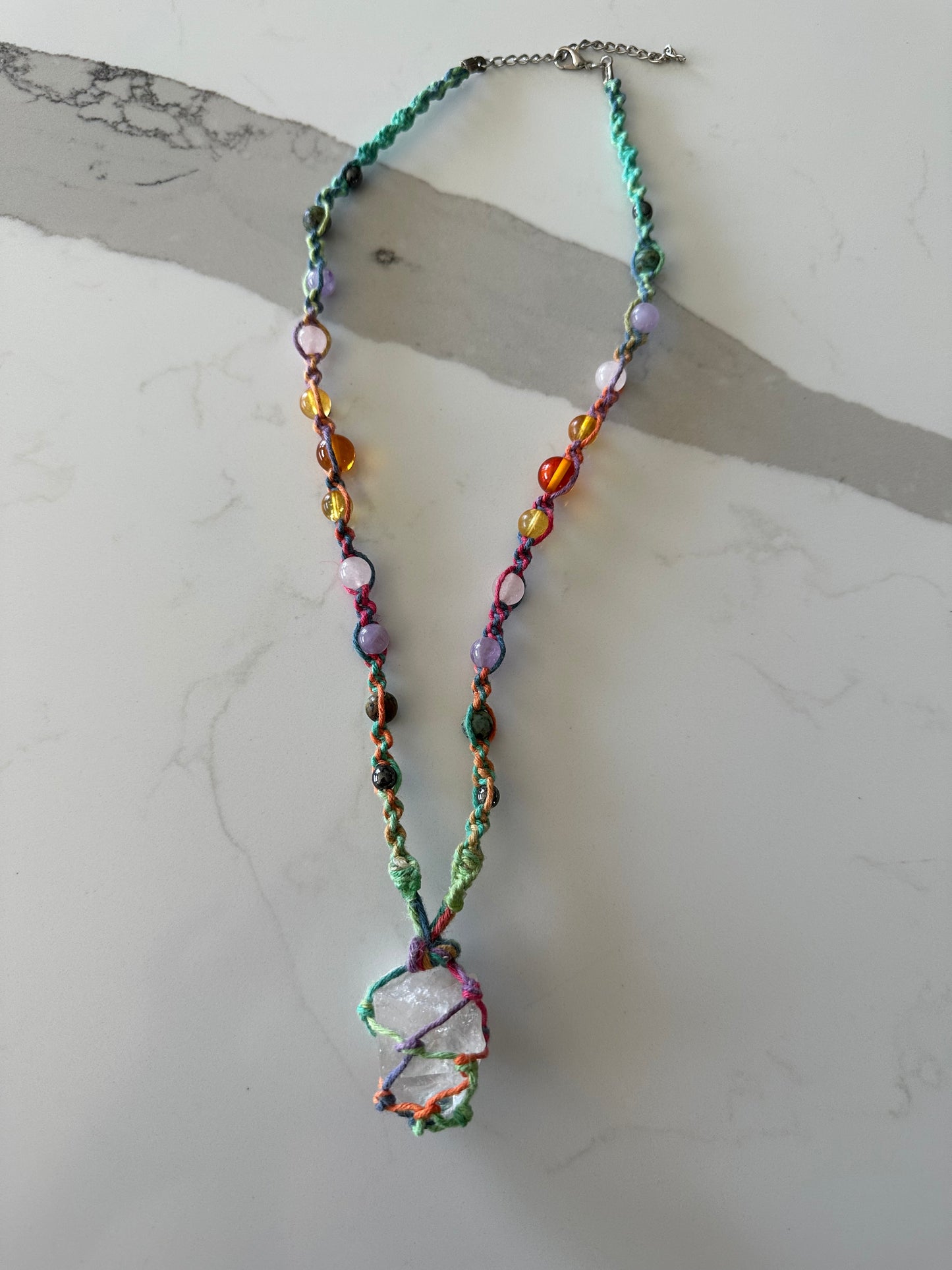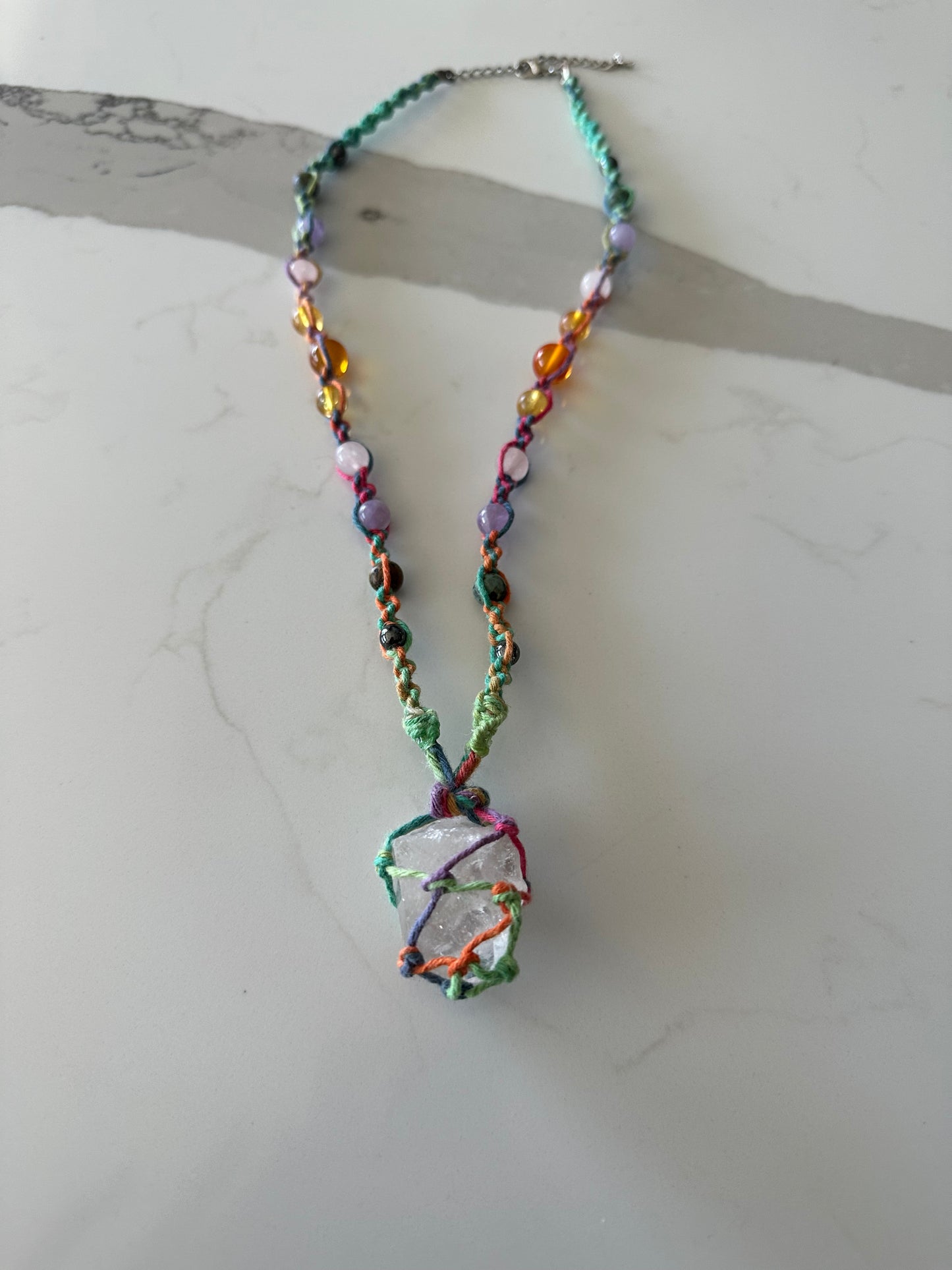 WORRY FREE EXCHANGES

Need something returned? Please reach out to us. We are happy to help.

FREE SHIPPING OVER $50

Free Priority Shipping on orders over $50 + insurance and tracking included.

MAGICAL CUSTOMER SERVICE

Something we can help you with? Issue with an order? Just wanna send us fan mail? Contact us at lalalotusco@gmail.com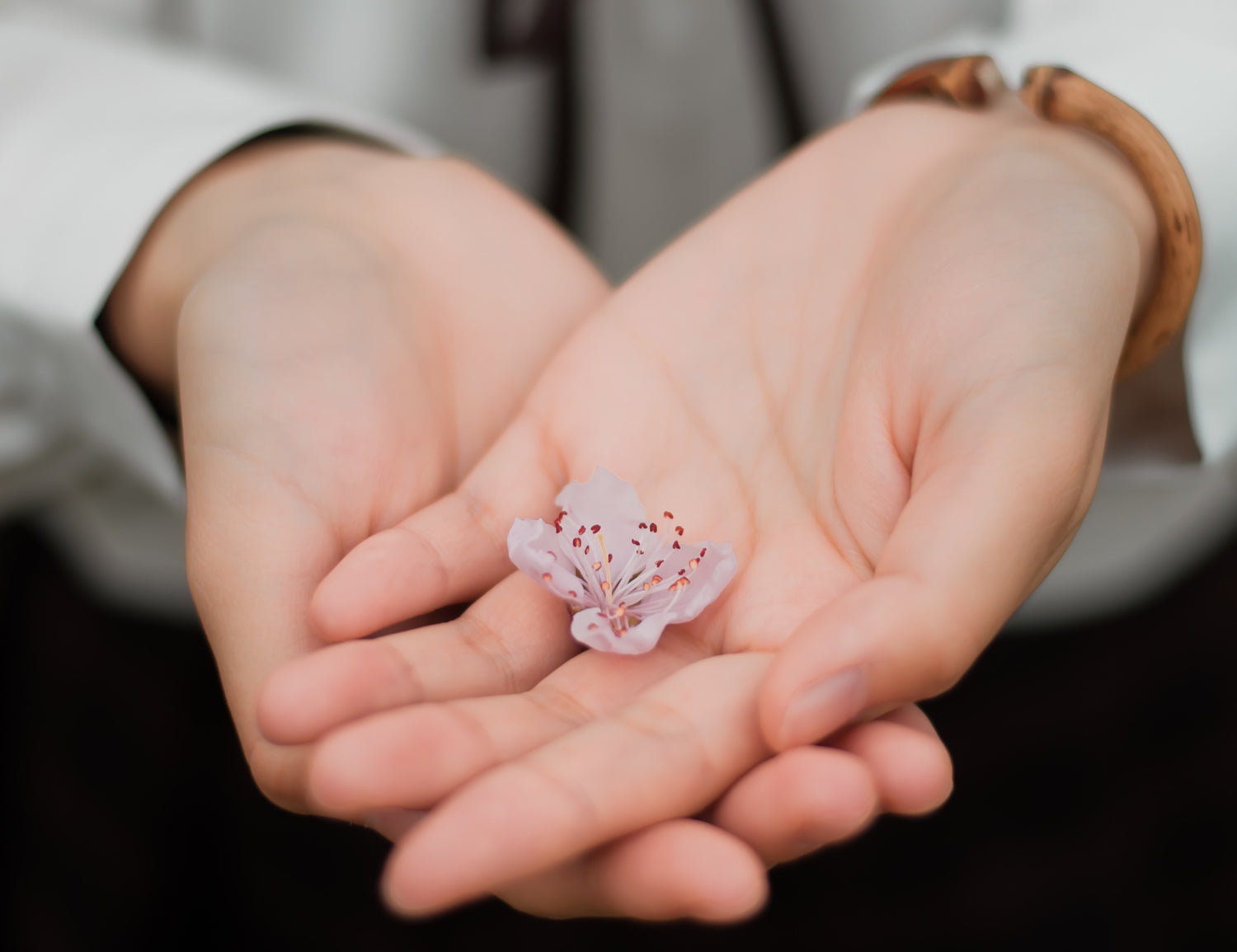 NEED SOME REIKI ENERGY?
All our beautiful jewelry is infused with reiki energy. Why not connect and try out our reiki sessions for yourself.
REIKI SESSION